Volunteering
Volunteers make the majority of activities possible at Nativity Catholic School. To ensure the safety of the children and families in our community, every volunteer is required to:
Comply with the Diocese of St. Petersburg fingerprint policy for background screening (Level II)
Attend the appropriate Safe Environment Program training

Level II Background Screening (Fingerprinting) Instructions
All volunteers working with children and vulnerable adults must be Level II background screened using electronic fingerprinting through diocesan resources.
All applicants pay for this process at registration using a credit card. The fee for volunteers is $51.00.
Safe Environment Program Online Training Instructions
Go to http://stpetersburg.CMGconnect.org to complete the safe environment curriculum.
Create a new account by completing all the boxes. This includes address, primary parish, and how you participate at your parish or school. If you have questions, please contact Therese Alonso.
Complete the Safe Environment Program - St Petersburg curriculum.
Download and print your certificate upon completion and email it to dosa@nativitycatholicschool.org.
---
Once you have completed your Safe Environment Program training and the Level II Background Check, please take the following steps:
Return documents to Therese Alonso, director of school affairs at: dosa@nativitycatholicschool.org.
Create your Better Impact account at https://bit.ly/NCSBetterImpact. Volunteer opportunities will be available and tracked throughout the school year through this application.
---
My Impact Mobile App
Partners of Nativity
Partners of Nativity is a passionate team of parents and teachers dedicated to strengthening the partnership between Nativity Catholic School, families, and the community. They organize events to foster relationships and build school pride and host fundraisers to support teachers and students.
Partners of Nativity meets on an as-needed basis and consists of numerous committees of families that have ideas to enhance children's Nativity Catholic School experience.

President – Erin Bradford
Vice President – Kelsey Prickel
Secretary - Rachel Sandoval-Powell
Treasurer
– Jennifer Welsh
Athletic Booster Committee
: Chairs Mitzie Tionko and Vanessa Timbol
Manages the Nativity Online Spirit Store, Coordinates Athletic Uniforms donations, and Manages the design & purchase of items with vendor(s).
Organize fundraising efforts for Partners of Nativity's efforts and account for money raised (provided to the Treasurer).
School-Life Committee:
Rayna Maniaci
Organizes all activities impacting school life, including but not limited to volunteer activities and publicity related to Partners of Nativity:
Cougar Comrade Coordinator and team for new families.
Organizing all activities impacting school life, including volunteer activities and publicity.
Pairing current Nativity families with new families to help them navigate their first year at Nativity.
Matching volunteers to Homeroom Angel positions to support teacher communication and coordinate organized events within each homeroom.
Provide refreshments at select functions; coordinate faculty luncheons; reach out to families experiencing significant life events (birth, death, illness, etc.).

To learn more about Partners of Nativity and how you can join, contact Partners of Nativity.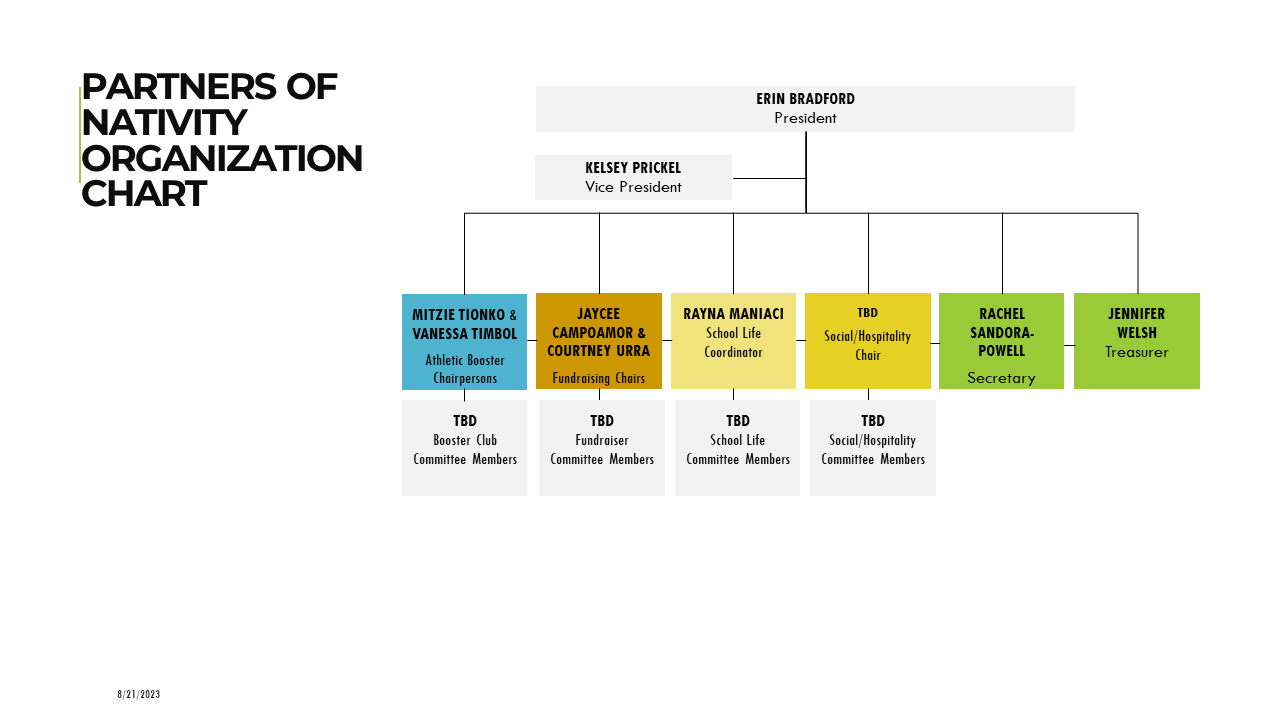 Cougar Comrades
Are you new to Nativity Catholic School?
Connect with Nativity Catholic School students and families, ask questions, make connections and learn about other parent and student school experiences from mentor families. We can help organize new family socials prior to school starting, and help our new families connect with mentor families regularly with information.
Contact
Rayna Maniaci
from our School-Life Committee to sign up!
Questions?
If you have questions about our Family Engagement opportunities please contact:
Mrs. Therese Alonso
Director of School Affairs
813-689-3395 ext.2277